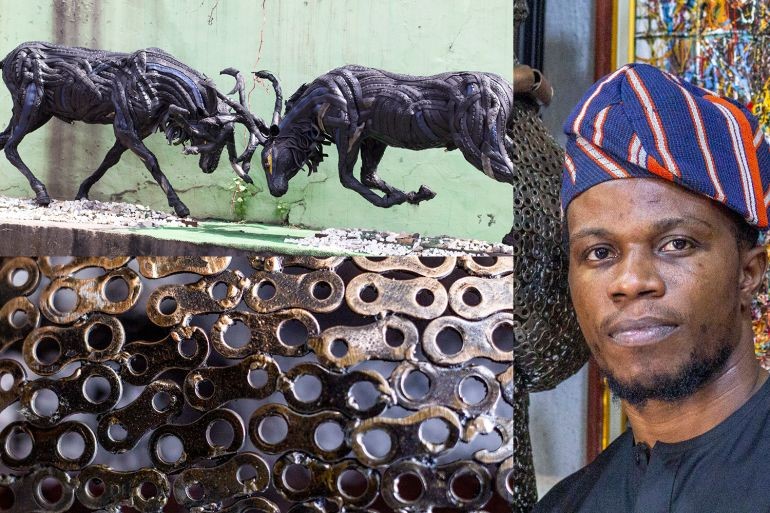 Ade Dagunduro: 'Not trash, but a thing of beauty'
Surrounded by art pieces in his gallery in Dugbe at the heart of Ibadan, Ade Dagunduro, 34, takes us through his creative journey. A graduate of Fine Art from Obafemi Awolowo University, Ile-Ife, his desire to push the boundaries of what he learned within the walls of a university spurred him to take up more training in painting and sculpture.
"School was more theoretical, less practical. When you get out of school and into the real world, you realise there is much more to learn," he says.
Art has "changed his life", he adds, and, now, he can help improve life a little for others by taking waste from the streets to make art.
Originally working with regular art materials such as paint, clay and wood, five years ago, Dagunduro decided to challenge himself by thinking beyond those.
"I wanted to see if I could actually think outside the box. I asked myself if I could be more creative," he says. In his quest to do this, Dagunduro learned to manipulate waste materials like used tyres, which would otherwise be burned – a common cause of pollution in Nigeria.
His first work with waste in 2016 was an ox made out of a tyre, called The Challenge. These days, he also works with metal, ropes and plastic which he finds on the streets in his community. Sometimes, people bring materials to his studio.
SOURCE: AL JAZEERA
Previous Post
Ibrahim Gbadamosi: Using waste design to make a political statement
Next Post
NIGERIAN ENTREPRENEUR TURNING PLASTIC WASTE INTO USABLE ITEMS