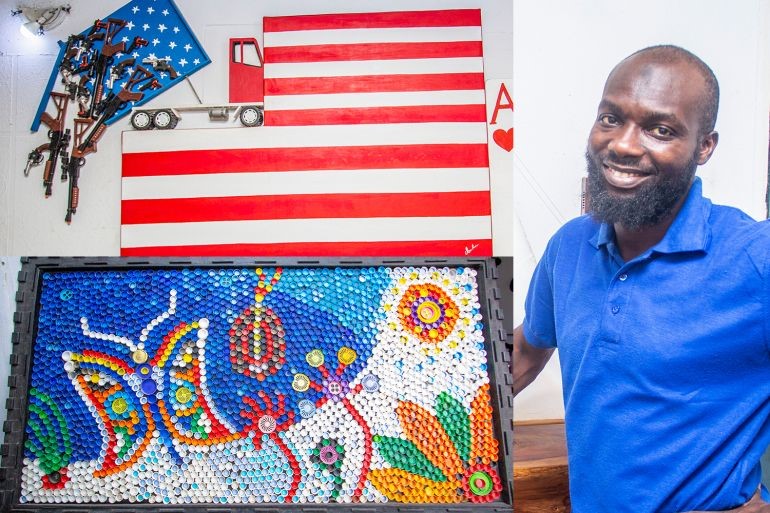 Ibrahim Gbadamosi: Using waste design to make a political statement
Ibrahim Gbadamosi, 41, uses waste to make items of furniture and artworks, such as 'About Time', a piece made from discarded wood, metal and plastic which depicts a truck on the US flag, dumping weapons.
In 2019, while he was selling some of his artwork on the roadside around Ringroad, Ibadan, a lecturer at the University of Ibadan showed interest in Ibrahim Gbadamosi's craft.
She invited him to present his work at the biannual conference of the Institute of Peace and Strategic Studies, being held at the university. But, when the lecturer who invited him stepped out of the venue, he was sent away by another lecturer, who threatened to call security.
Gbadamosi, 41, says his art, which is made from all sorts of different kinds of waste, often gets a mixed reception. Some love it; others hate it.
"You will find people who will close doors in your faces, and you will find people who will open doors to you."
In his house, which doubles as a gallery, visitors will find a sailing ship made from a tree trunk; a map of Africa made from bottle tops and foam slippers; a beaded curtain made out of strings of bottle caps.
SOURCE: AL JAZEERA
Previous Post
Bank of Industry signs £100 million agreement with France to combat climate change in Nigeria
Next Post
Ade Dagunduro: 'Not trash, but a thing of beauty'