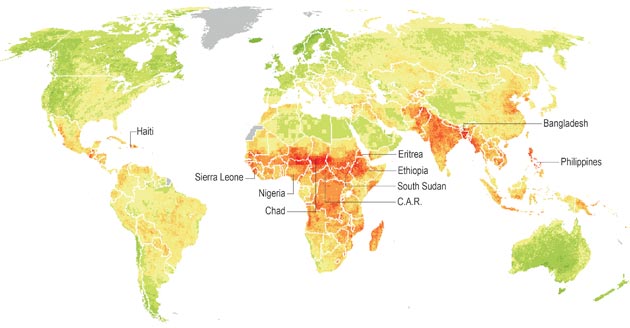 Nigeria, 31 Others At Extreme Risk to Civil Unrest and Violence Due to Climate Change

In its recently released Climate Change and Environmental Risk Atlas for 2015, global risk analytics company Maplecroft identifies 32 countries where the impacts of climate change and food insecurity could lead to increased civil unrest and violence. The Atlas provides comparable risk data across 26 separate issues, including climate change vulnerability and food security, as well as emissions, ecosystem services, natural disasters and regulation.
Nigeria, Bangladesh, Sierra Leone, South Sudan, and Chad are among the most vulnerable to climate change with 'extreme risk'. These emerging economies all depend heavily on agriculture, with 28% of their overall economic output derived from agricultural revenues. Changing weather patterns in these regions are already impacting food production, poverty, migration and social stability – factors that significantly increase the risk of conflicts and instability.
These conflicts are evident in Nigeria, where drought, poverty and limited access to education has created a fertile environment for the insurgency of the Boko Haram militant group.
Next Post
Clean Water Scarcity in sub-Saharan Africa